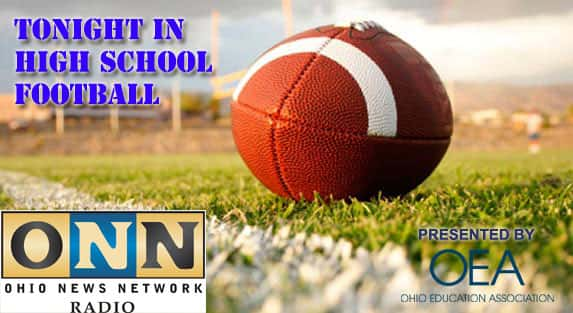 ---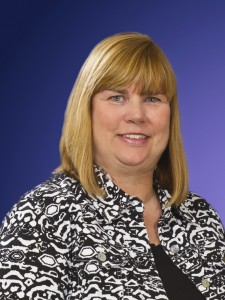 I'm Becky Higgins, President of the Ohio Education Association. I'm proud to bring you tonight's games on behalf of OEA's 124,000 members. We teach in the public schools and state universities. We drive your kids to school, serve them lunch, and keep our schools clean and safe. We also coach the teams on the field. We're committed to making sure all children experience the joy of learning and can succeed regardless of their family's income or zip code. We believe in great public schools for every student.
Teach. Inspire. Belong.
---
Thank you for your support throughout the high school football season, please check your local affiliate listings below, the show will run through Week 12!
OHSAA High School Playoff Coverage
TONIGHT IN HIGH SCHOOL FOOTBALL AFFILIATE STATIONS
| City | Call Letters |
| --- | --- |
| Archbold/Toledo | WMTR-FM 96.1 |
| Ashland | WNCO-AM 1340 |
| Athens | WATH-AM 970/FM97.1* |
| Bellefontaine | WBLL-AM 1390 |
| Bellevue | WOHF-FM 92.1 |
| Bryan | WBNO-FM 100.9 |
| Bryan | WQCT-AM 1520/FM96.5* |
| Bucyrus | WBCO-AM 1450 |
| Bucyrus | WQEL-FM 92.7 |
| Cambridge | WILE-AM 1270 |
| Cambridge | WILE-FM 96.7 |
| Canton | WHBC-AM 1480 |
| Canton/Akron/New Philly | WNPQ-FM 95.9 |
| Celina | WCSM-AM 1350 |
| Celina | WCSM-FM 96.7 |
| Chillicothe | WBEX-AM 1480 |
| Chillicothe | WBEX-FM 92.7* |
| Chillicothe | WCHI-AM 1350 |
| Cleveland | WKNR-AM 850 |
| Columbus | WBNS-AM 1460 |
| Columbus | WBNS-FM 97.1 |
| Coshocton | WTNS-FM 99.3 |
| Dayton | WING-AM 1410 |
| Defiance | WONW-AM 1280 |
| Delaware | WDLR-AM 550/FM92.9* |
| Dover/New Philadelphia | WJER-AM 1450/FM100.9* |
| Eaton | WEDI-AM 1130 |
| Findlay | WFIN-AM 1330 |
| Fredricktown | WMAN-FM 98.3 |
| Fremont | WFRO-FM 99.1 |
| Fostoria | WFOB-AM 1430 |
| Galion | WFXN-FM 102.3 |
| Greenville | WTGR-FM 97.5 |
| Hamilton/Cincinnati | WMOH-AM 1450 |
| Hillsboro | WSRW-AM 1590/FM101.5* |
| Ironton/Huntington | WIRO-AM 1230 |
| Jackson | WYRO-FM 98.7 |
| Kenova, WV | WTCR-AM 1420 |
| Lancaster | WLOH-AM 1320 |
| Lancaster | WLOH-FM 104.5 |
| Lima | WIMA-AM 1150 |
| Logan | WLOH-FM2 99.3 |
| Mansfield | WMAN-AM 1400 |
| Marietta | WMOA-AM 1490 |
| Marion | WMRN-AM 1490 |
| Marysville | WQTT-AM 1270/FM98.7* |
| McConnelsville | WJAW-FM 100.9 |
| Middleport | WYVK-FM 92.1 |
| Millersburg | WKLM-FM 95.3 |
| Milton, WV | WZZW-AM 1600 |
| Mount Gilead | WVXG-FM 95.1 |
| Mount Vernon | WMVO-AM 1300/FM100.9* |
| Mount Vernon | WQIO-FM 93.7 |
| Newark | WCLT-AM 1430/FM94.9* |
| Oberlin | WDLW-AM 1380/FM98.9* |
| Oberlin | WOBL-AM 1320/FM107.7* |
| Painesville | WABQ-AM 1460 |
| Port Clinton | www.PortClintonradio.com |
| Portsmouth | WNXT-AM 1260 |
| Portsmouth | WNXT-FM 99.3 |
| Portsmouth | WZZZ-FM 107.5 |
| Sandusky | WLEC-AM 1450 |
| Sidney | WMVR-FM 105.5 |
| Steubenville/Weirton | WEIR-AM 1430/FM94.9* |
| Tiffin | WTTF-AM 1600/FM93.3* |
| Toledo | WTOD-FM 106.5 |
| Uhrichsville | WBTC-AM 1540 |
| Van Wert | WERT-AM 1220/FM104.3* |
| Waverly | WXIZ-FM 100.9 |
| Waverly | WXIC-AM 660 |
| Washington Court House | WCHO-FM 105.5 |
| Wheeling, WV | WVLY-AM 1370 |
| Wilmington | WKFI-AM 1090 |
| Xenia | WBZI-AM 1500 |
| Xenia/Dayton/Springfield | WBZI-FM 100.3 |
| Youngstown | WNIO-AM 1390 |
| Zanesville | WHIZ-AM 1240 |